Primary tabs
Schrieber Family
Adolf Josef Schrieber
Adolf Josef Schrieber (1835-1875), the progenitor of the Schrieber family of Ocean Springs and environs, was born on January 19, 1835, in Engelsberg, Austrian Selesia, the son of Friederich Josef Schrieber and spouse. Selesia is a region in east central Europe situated primarily in southwestern Poland, with minor sections in Czechoslovakia and East Germany. In 1864, a young Adolf J. Schrieber arrived in Mexico from Austria with the contingent of Ferdinand Maximilian (1832-1867), the Arch Duke of Austria and French backed Emperor of Mexico. After Maximilian and his French troops were defeated in 1867, by patriots led by Benito Juarez (1806-1872), Adolf J. Schrieber found his way to New Orleans where he met and married Marguerite Rosina Christian (1834-1920), a native of Hausen, Reutlingen-Wurtemberg, Germany, and the daughter of Frederick Christian and Laura Goevbrani. Catholic records at St. Alphonsus Church in Ocean Springs, indicate that her mother's name may have been Louise Boedbroad. Their nuptials took place in April 1870 at the Bethlehem Kirche in the Crescent City.(The History of JXCO, Ms., 1989, p. 343 and Lepre, 1991, p. 196)
W.B. Schmidt estate
The Schribers found Ocean Springs in the early 1870s through another German immigrant, William B. Schmidt (1823-1901). Schmidt, a native of Baden-Wurttemberg, made his livelihood at New Orleans as a wholesale grocer. After the Civil War, he acquired real estate at Ocean Springs and erected a summer home, which is extant at 227 Front Beach Drive. W.B. Schmidt also owned the Ocean Springs Hotel and Marble Springs, which he donated to the City in 1896. Other W.B. Schmidt gifts to the local people were the land where the Ocean Springs Community House is situated on Washington Avenue and the lot of land on the northwest corner of Rayburn and Porter, now the site of St. Johns Episcopal Church, which was completed in April 1892.
In the early 1870s, Adolf J. Schrieber and spouse were the caretakers of the W.B. Schmidt Estate on Front Beach. Later they moved to a site on Old Fort Bayou, which in the 20th Century became the Gus Nelson Place. Here their three children were born: Frederich Adolph "Dolph" Schrieber (1871-1944), Joseph Louis "Dode" Schrieber (1873-1951), and Maria Luise Schrieber Carver (1875-1954). Five weeks prior to the birth of his daughter, Adolf J. Schrieber expired from the yellow fever virus on October 13, 1875.(History of JXCO, Ms., 19189, p. 343 and Lepre, 1991, p. 304)
F. Joseph Letzler
In the St. Alphonsus Catholic Church, on November 16, 1876, Franz Joseph Letzler (1834-1908), a native of Grenzingen, Alsace-Lorraine, Germany married Rosina Christian Schrieber, the widow of Adolf J. Schrieber. Joseph and Rosina S. Letzler were the parents of Marianne Margrethe Letzler Cotton (1877-1944+). Joseph Letzler also reared the children of Adolf J. Schrieber who called him "Pa".(The History of JXCO, Ms., 1989, p. 264 and p. 342)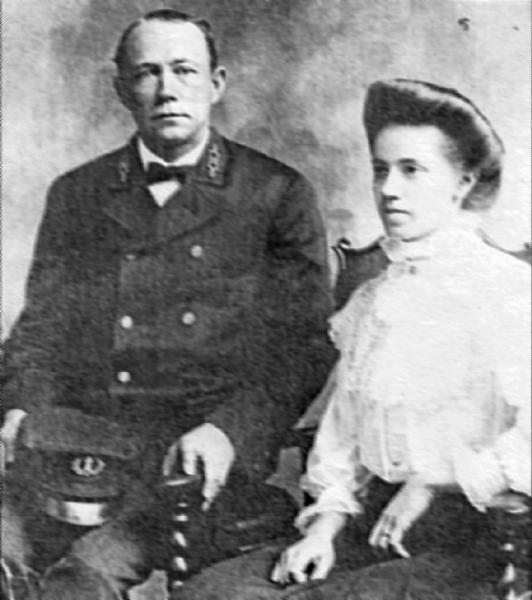 Wedding day of Frederich Adolph Schrieber and Lilly Alice Rupp
[Courtesy of Lurline Schrieber Hall]
Frederich A. Schrieber
Frederich Adolph "Dolph" Schrieber (1871-1943) was born at Ocean Springs on November 11, 1871. Dolph Schrieber married Lilly Alice Rupp (1889-1972), the daughter of Robert Rupp (1857-1930), a German immigrant, and Paulina Thiem (1857-1945). They were the parents of: Rachel Pauline Schrieber (1911-1968) married Curtis Wright (1906-1953) and David Herman "Pat" Pettus; Robert F. Schrieber (1914-1973) married Anna Ruth Kolb (1921-2005); Leah Louise Schrieber Thayer (1917-1992) married Earl Burnside (1905-1991) and Benjamin Thayer; E.M. Ashley Schrieber (1919-2001); Joseph Wheeler Schrieber (1921-1953) married Juanita Potter; Mildred Harriet Schrieber (1923-1978) married Francis A. Ford (b. 1916), Jackson Samuels, Rudolph Fisher and Theodore Myers (d. 1978); and Allen "Laddie" Schrieber (1925-1985) married Clair Lynch and Dorothy L. Hebert (b. 1936).(genealogy research of Dorothy L. Hebert)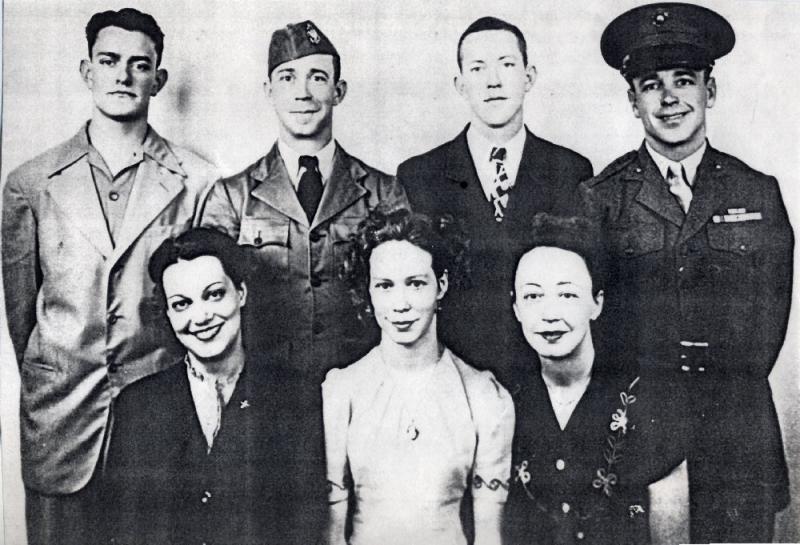 Children of F.A. Schrieber and Lilly Alice Rupp
[top l-r: Allen "Laddie" Schrieber (1925-1985), Robert F. Schrieber (1914-1973), Joseph W. Schrieber (1921-1953), and E.M. Ashley Schrieber (1919-2001).[bottom l-r: Leah L. Schrieber (1917-1992), Mildred H. Schrieber(1923-1978) and Rachel P. Schrieber (1911-1968)] Courtesy of Lurline Schrieber Hall.
During the Spanish American War (1898), F.A. Schrieber served with the 29th US Volunteers in the Philippine Islands. After the conflict, Dolph Schrieber became active in the oyster business at Ocean Springs. In March 1902, he, E.N. Ramsay (1832-1916), and George W. Dale (1872-1953) applied to the Jackson County Board of Supervisors for an oyster planting lease on eighty acres of "land that is underwater" west of Marsh Point. Schrieber built a small home on creosote pilings at Marsh Point. It was christened "The Little Black Diamond" when it was completed on July 4, 1904. Dolph planted over ten thousand barrels of oysters in Davis Bayou opposite his house. He and his wife occasionally lived here to protect their oyster beds from poachers. Mrs. Lily Schrieber reported that she once shot several holes through the skiff of an oyster thief one night. The Schrieber water home became known as the "Shack". It survived storms and hurricanes for many decades, but was probably finished off by Camille in 1969.(The Progress, July 9, 1904, p. 4 and The Daily Herald, November 16, 1957)
Dolph Schrieber acquired a US Government patent on Lot 5, Section 32, T7S-R8W in December 1905. This 23 acres tract adjoined his 1902 oyster leases at Marsh Point. Schrieber sold an interest in his Marsh Point acreage to his brother, Dode Schrieber (1873-1951), and others including, George W. Dale (1872-1953), William Toche (1862-1937), Thomas R. Friar (1845-1918), and John Burr (1875-1916).(JXCO, Ms. Land Deed Bk. 34, pp. 290-291)
In May 1909, Dolph Schrieber relinquished the majority of his holdings at Marsh Point and Grass Island to Hugh C. Seymour (1876-1913). Seymour for $1000 acquired 1800 feet of Lot 5 fronting on Davis Bayou. This in addition to 800 feet acquired in May 1905, from Schrieber gave Seymour a commanding position on the valuable oyster reefs in Davis Bayou north of Marsh Point.(JXCO, Ms. Land Deed Bk. 34, pp. 489-90 and Bk. 31, pp. 349-350)
Fort Maurepas stone
In 1910, Robert W. Rupp (1857-1930), the father-in-law of Dolph Schrieber, discovered the Fort Maurepas cornerstone, on the W.B. Schmidt estate where he was the caretaker. Dolph Schrieber kept the Colonial era relic at the various lighthouse stations that he manned until his retirement and return to Ocean Springs in 1937. In May 1937, James J.A. Fortier, president of the board of curators of the Louisiana State Museum, and Emile V. Stier, secretary of the board, came to Ocean Springs to view the stone. Mr. Schrieber loaned it to these gentlemen from the Crescent City for it to be shown to George Bonnet, the French ambassador to the United States. In recent years, the Fort Maurepas cornerstone had been on display in the drugstore of Dr. O.L. Bailey (1870-1938) on Washington Avenue.(The Jackson County Times, May 28, 1937)
In September 1937, Mr. Fortier informed Dr. Bailey that he would not be returning the Fort Maurepas marker to Ocean Springs. His pretext for keeping the historical item for the Louisiana State Museum was that the Heirs of W.B. Schmidt were claiming it since it was found on their family estate in Ocean Springs. Their wish was to make a permanent loan of it to the museum.(Schmidt, 1972, p. 10)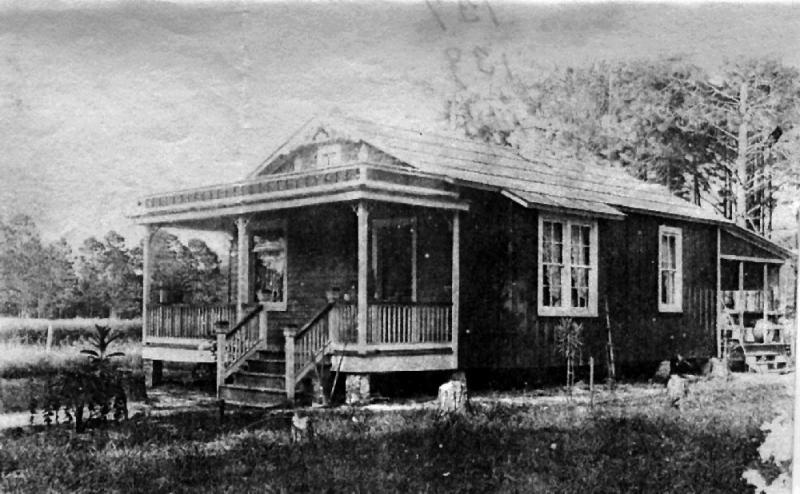 F.A. Schrieber Cottage (circa 1910)
508 Ward
Lighthouse service
After his sale of his Marsh Point lands to H.C. Seymour, Dolph Schrieber left the seafood industry and made a career in the US Lighthouse Service joining in 1908. He tended lighthouses at the Mississippi River's Southwest Pass for six months; Chandeleur Island for thirty-one and one-half years; Horn Island for four years; Round Island for four and one-half years; Tchefuncte River at Madisonville, Louisiana for fifteen years; and Biloxi, Mississippi for two years. Mr. Schrieber retired from the Lighthouse Service at Biloxi in 1937. He made his home in Ocean Springs at 508 Ward Avenue, which is now in the possession of his grandson, Robert F. "Bobby" Schrieber Jr., who inherited the home from his uncle, E.M. Ashley Schrieber (1919-2001). Bobby has meticulously restored the old Schrieber place with the skill and patience of the master carpenter and painter that he is.(The Daily Herald, march 4, 1935, p. 6 and The Ocean Springs Record, January 25, 2007, p. B4 and B5)
Frederich Adolph Schrieber expired at Ocean Springs on March 17, 1944. Lilly Rupp Schrieber lived until August 10, 1972. Both were interred in the Evergreen Cemetery on Old Fort Bayou.(The Daily Herald, March 18, 1944)
Memorabilia
In the spring of 2006, Bobby Schrieber (b. 1940) of Ocean Springs and Lowell F. Ford (b. 1942) of Torrance, California, both grandsons of Dolph Schrieber, donated more than 100 lighthouse service memorabilia artifacts owned by Mr. Schrieber, to the Lake Ponchartrain Basin Maritime Museum at Madisonville, Louisiana. The donated collection consists of: a pristine, lighthouse keeper's dress uniform, two Spanish American era rifles, journals, family and lighthouse photos, a megaphone, and other family items. The Dolph Schrieber material was examined by a California based historical commissioner who lauded the collection as: "This collection is extraordinarily unique due to its historical relevance to the lighthouse. This material is likely the most comprehensive collection of its type on existence." Alison Greffenius of the Lake Pontchartrain Basin maritime Museum said that: "It's the only extensive collection of light keeper family memorabilia in the United States."(The Sun Herald, June 12, 2006, p. A5)
Joseph L. Schrieber
Joseph Louis "Dode" Schrieber (1873-1951) was born at Ocean Springs on March 14, 1873. At Beaumont, Texas, in October 1917, he married Etta Augusta Clark (1888-1979), the daughter of James Lundy Clark (1850-1914) of Biloxi and Charlotte Victoria Richards (1859-1939), a native of Shubuta, Clarke County, Mississippi. Their children were: Marion Lurline Schrieber (b. 1920) married Charles W. Hall (b. 1918) and Charlotte Rose Schrieber (b. 1924) married Howard M. Blanchette (1927-2001).(History of JXCO, 1989, p. 162 and p. 342)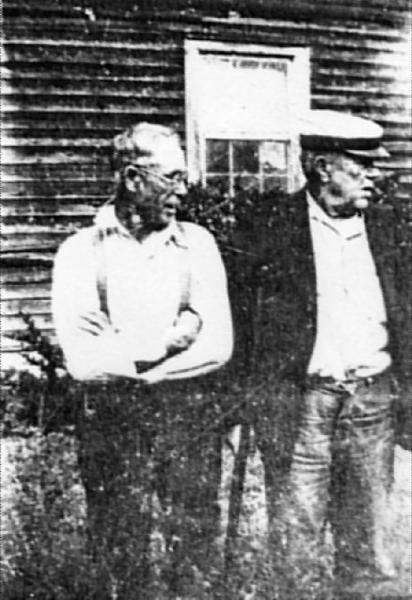 Dode and Dolph Schrieber
[Courtesy of Lurline Schrieber Hall]
Dode Schrieber was an interesting man. He was multi-talented and made his livelihood at various times as a carpenter, boat builder, and oysterman. One of Dode's most unusual jobs occurred when he was the assistant of Mrs. Paul W. Bennett. Mrs. Bennett in addition to being the recreation director at the Community Center on Iberville Drive, which later became the American Legion hut, was the choir director of a Baptist Church in New Orleans. During WW II, Dode was a local air raid warden in charge of checking that those residents in his area of responsibility had turned off their house lights at the appropriate time.(Lurline S. Hall, May 16, 2004)
Schrieber homestead
In 1910, Dode Schrieber built the family home at present day 1309 Porter on a part of Lots 13 and 14 in Block 32. He had acquired the lot in June 1910, from H.F. Russell (1858-1940) for $250. Local State representative, Henry B. Zuber III, purchased the old Schrieber property in June 2003 for $40,000, from a Special Commissioner of the Jackson County, Mississippi Chancery Court. The home was demolished in July 2003. Judith Martin was conveyed the Schrieber lot in January 2004, by Mr. Zuber and H.J. Endt II. (JXCO, Ms. Land Deed Bk. 36, p. 10, JXCO, Ms. Land Chancery Court Cause No. 2002-8429-JB, and JXCO, Ms. Land Deed Bk. 1330, p. 797)
Local historian
Dode Schrieber made an amazing contribution to the chronology of Ocean Springs in the fall of 1949, when he was interviewed in the twilight of his life by Captain Ellis Handy (1891-1963), then a writer for The Gulf Coast Times. Captain Handy's column "Know Your Neighbor" was published between July 1949 and November 1949. It included interviews with some of Ocean Springs' most notables: Antonio John Catchot (1864-1954); John Edward Catchot (1897-1987); Henry L. Girot (1886-1953); John W.C. Mitchell (1871-1952); Alfred Peter Moran (1897-1967); Fred J. Ryan (1886-1969), and George Washington Smith (1857-1953). The VanCleave, Bradford, Davis, and many more pioneer families and individuals were highlighted by Mr. Handy. In addition to details of his own Schrieber-Letzler family, Dode Schrieber related much about the unpublished events of the mid and late 19th Century chronology of Ocean Springs. For any local genealogist or history buff, the Handy and Schrieber reports are a must!
Dode Schrieber expired at Biloxi on June 22, 1951. Etta Clark Schrieber lived on until May 16, 1979. She passed at Montgomery. Alabama. Both lie in eternal rest in the Evergreen Cemetery on Old Fort Bayou.
Maria Luise Brigette Schrieber
Maria Luise Brigette "Louisa" Schrieber (1875-1954) was born on November 23, 1875. At Ocean Springs, on January 31, 1903, she married Oscar Raymond Carver (1878-1926), a native of Bay St. Louis, Mississippi, and the son of David Carver (1836-1900+) and Matilda Breakfield (1846-1925). She was the daughter of surveyor, D.N. Breakfield, who was born at Georgia in 1817, and May Breakfield, born 1827, at South Carolina.
Oscar R. Carver came to Ocean Springs from Bay St. Louis in 1889 with his family. His father was one of the ferrymen who transported people and animals across Old Fort Bayou at Ocean Springs before the first bridge was built in 1901. Oscar supported his family as laborer on the bridge gang of the L&N Railroad. He and Louisa were the parents of three sons: Lawton H. Carver (1903-1973) married Freda E. Lee and Lillian Carla Montalto (1916-1995); Joseph Aubrey "Joe" Carver (1906-1985) married Grace Carver (1904-1971); and Withee Oscar Carver (1910-1985) married Manuela Pol Lewis (1906-1991).(The Jackson County Times, May 15, 1926, p. 5)
Oscar R. Carver expired at Ocean Springs in late May 1926, after an illness of several months. Louisa S. Carver lived in the old Theresa Vahle Friar (1871-1956) house on the northwest corner of Washington and Calhoun for many years before she relocated to Lakeland, Florida where she died on January 26, 1954. Both were interred in the Evergreen Cemetery at Ocean Springs.
Lawton H. Carver
Lawton H. Carver (1903-1973) was an Ocean Springs lad who became an internationally acclaimed sports and culinary journalist, restaurateur, angling and fly tying expert, and artist. He was educated in Ocean Springs' Public Schools and at Loyola University at New Orleans. In the fall of 1922, before he entered Loyola, Lawton was employed by Earheart and Barner, a well-know drugstore in the Crescent City. He married Freda E. Lee on May 10, 1926, at Ocean Springs. She was the daughter of Frederick Edgar Lee (1874-1932). Mr. Lee was a native of Campbellsburg, Indiana, a small village in south central Indiana. He was in the real estate and pecan business at Ocean Springs and the builder in 1925, of Casa Flores on Davis Bayou, which is now called Del Castle. Lawton and Freda were the parents of Betty Lee Carver Eisenberg, the spouse of Lloyd L. Eisenberg (1927-1996).(The Jackson County Times, September 2, 1922 and JXCO, Ms. Circuit Court MRB 17, p. 196)
After graduating from college, Carver made his livelihood as a newspaper sports writer and editor. Circa 1925, his journalist career began in Tampa, Florida with the Tampa Tribune. Carver then went to Daytona Beach, Florida where he was sports editor of the News-Journal from 1929-1934. While at Daytona, he may have been instrumental in starting the auto races there. In 1934, Lawton Carver went to New York City as a sports staff writer for United Press. He joined the International News Service in 1936, as sports editor and remained with that organization until it closed in 1958.
Lawton H. Carver later married Lillian Carla Montalto (1916-1995) of Beacon Street, Back Bay, Boston. They had a son, Lawton Christopher Carver who was born in 1955. Mrs. Carver resided with her son at Las Vegas, Nevada, until her demise on 1995.
In 1951, in the Big Apple, Lawton H. Carver opened the Camillo Restaurant on 2nd Avenue near 44th. He served Italian food and steaks. At his Gotham restaurant, Carver had a bulletin board where guests could thumb-tack praise or criticism regarding food or service. Mrs. Ty Cobb once wrote that Camillo's served "the very best marinara sauce I ever ate in my life". Pictures of Ted Williams, Phil Rizzuto, and English Channel swimmer, Florence Chadwick, also graced the note board. Lawton H. Carver sold the Camillo Restaurant in 1957. He was in sports publicity for several years before opening Lawton Carver's Cafe on 2nd Avenue near the United Nations building. Carver later was an assistant editor at the Herald Tribune and kitchen editor at the Journal-American were he wrote under the name of Prudence Penny.
Lawton H. Carver expired at New York on January 22, 1973. His remains were interred in the Calvary Cemetery in New Jersey. Carver was eulogized in a letter to Mrs. Lillian Carver from Larry Penzell, a Madison Avenue public relations executive. Penzell wrote of Lawton Carver in January 1973: "I needn't tell you how I adored this man, assuredly, the kindest, and most wonderful person I ever had the good fortune to know. Generous, witty, personable, talented…he was everything, and never and individual to seek the limelight. In this business, this past quarter of a century and need I say, dozens, who could never shine his shoes, without a milligram of Lawton's talent…. Were the obnoxious crowd-shovers who sought the bows. Carver was an unusual man of the highest caliber". Pennell continued about Carver, "we'll never see the likes of anyone ever resembling dear Lawton again in our lifetime nor in eons to come. God chooses only a very few to dole out humility, understanding, patience and appreciation of his fellow man."
REFERENCES:
The History of Jackson County, Mississippi, "Franz Joseph Letzler and Rosina Christian Schrieber", (Jackson County, Mississippi Genealogical Society: Pascagoula, Mississippi-1989).
The History of Jackson County, Mississippi, "Adolf Josef Schrieber and Rosina Christian", (Jackson County, Mississippi Genealogical Society: Pascagoula, Mississippi-1989).
Journals
The Daily Herald, "Captain Schrieber assumes Biloxi duty", March 4, 4938.
The Daily Herald, "Frederick Schrieber retired Lighthouse Keeper, Dies at Home", March 18, 1944.
The Daily Herald, "Schrieber-Lynch", March 2, 1954.
The Daily Herald, "Know Your Coast"-The Story of the finding of the Iberville Plaque", 1960?
The Gulf Coast Times, "Curtis Wright Makes Pigeons A Profitable Hobby That Pay For Itself", September 18, 1952.
The Gulf Coast Times, "Curtis H. Wright, 47 Dies After Long Illness", May 2, 1953.
The Jackson County Times, "Oscar R. Carver", May15, 1926.
The Jackson County Times, "Schrieber-Kolb", December 16, 1939.
The Sun Herald, "Anna Ruth Schrieber", March 15, 2005, p. A7.
The Ocean Springs Record, "Bringing back the good old days: Builder restores grandparents' historic home", January 25, 2007, p. B4.