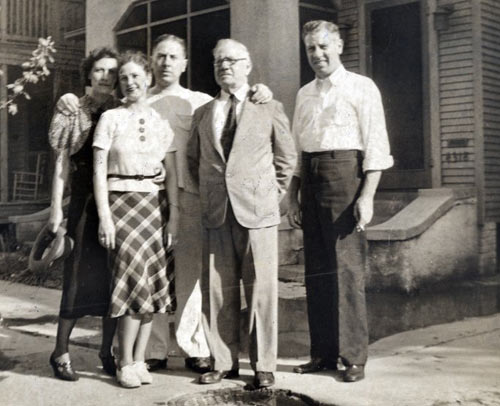 Joseph A. Bellande and family circa 1940 at NOLA?
[L-R: Odie Wooten Bellande (b. 1895); Signe Olsen Bellande (1910-1999); Earle Bellande (1897-1989); Arbo Bellande (1868-1961) and Emmet Bellande (1895-1974)
Joseph Emmett Bellande (1895-1974)
     Joseph A. Bellande's eldest son, Joseph Emmett Bellande (1895-1974), called Emmett, was born at Biloxi, Mississippi on June 24, 1895.  He later resided at New Orleans with his wife, Oda Wooten (b. 1895), who was born in rural Leake County, Mississippi to Robert F. Wooten (1864-1910+), a farmer, and Mary Hollis Wooten (1864-1910+).  During WW I, Emmett Bellande was employed at Detroit, Michigan as an auto mechanic with the Liberty Motor Company.  Emmett was a very successful insurance agent before the Great Depression, and like many of that decade lost his fortune doing those economically trying times. In 1930, Emmett and his small family were domiciled on Industry Street in the Crescent City. He worked for the city of New Orleans as a cemetery caretaker for many years.  A son, Joseph Emmett Junior, was born July 23, 1927.  After Emmett and Odie divorced, he married Mildred Burgdorf (1908-1990) who was active in local politics.  Joseph Emmett Bellande died of thyroid cancer in September 1974.
Joseph Emmett Bellande Junior (b. 1927)
     Joseph Emmett Bellande, called Emmett, is retired with his lovely wife, Marian (b. 1928) in Arabi, Louisiana.  He enjoyed a successful career as an electrical contractor and gunsmith.  Emmett enjoys his children, grandchildren, hunting, history, and sailing in his "old age".  He and Marion have seven wonderful children and an evergrowing number of grandchildren.  Their children are: Bonnie Lynn Englande (b. 1947), J.E. Bellande, III (b. 1949), Peggy Jane Laborde (b. 1951), Kenneth Bellande (b. 1953), Susan Valee (b. 1955), Diane Davis (b. 1958), and Nancy Liberto Ciuvio (b. 1964).
Louis Earle Bellande (1897-1989)
     Joseph A. Bellande's second son, Louis Earle (1897-1989), was called Earle.  Earle Bellande, although born at Biloxi on the Mississippi coast, lived most of his adult life in Chicago, Illinois.  It is generally believed that he came north as the result of a hitch in the US Navy.  Circa 1924, Earle married a woman named Katharine Eischen (1889-1933), who was born on January 5, 1899 to Anton Eischen and Margaret Harre in Luxembourg.  Katharine expired from stomach cancer at Chicago on June 25, 1933.  Her corporal remains were interred at St. Henry's Cemetery.  At the tome of Katharine's demise, the Bellandes were domiciled at 1726 Thome Avenue at Chicago.(1930 Cook Co., Illinois Federal Census  R496, p. 30B, ED 1956 and Cook Co., Illinois Death Certificate No. 17097)
     Earle Bellande was gregarious and personable.  These traits suited him well as a salesman in the Chicago meat packing industry.  In 1937, he married Signe V. Olsen (1910-1999), a nurse of recent Scandinavian ancestry.  She was born on August 23, 1910 at Stambaugh, Michigan and expired at Batavia, Illinois on February 28, 1999.  They lived at 1528 Elmdale at Chicago.  Three children were born of this union: Signe Marie Bellande (b. 1939), called Bunny; L. Signe Bellande, a male who died March 8, 1941; and Louis Earle Bellande Junior (b. 1942).(The Naperville Sun, March 3, 1999)
     Earle and Signe Bellande often traveled South to visit relatives and friends.  In March 1938, they came to Biloxi and joined with his Uncle Jesse Smith (1860-1934) and Aunt Ophelia Barthes Smith for a 2000 mile round trip down the east Florida coast to Miami.  Marie Alexandrine Barthes (1876-1961), Earle's mother , owned an orange grove near Miami.  The party retuned to Biloxi via the west Florida coast road and visited Jacksonville, Daytona beach, Palm Beach, Miami Beach, and St. Petersburg.  Jesse Smith noted that there were 100,000 visitors in the Miami area, but they were beginning to return to their Northern homes on a daily basis.(The Daily Herald, March 31, 1938, p. 6)
Signe Marie Bellande (b. 1939)
     Signe Marie Bellande married Frederick (Fritz) Specht at Chicago, Illinois on September 10, 1960.  They resided in Chicago were Fritz was self-employed as an attorney and later relocated to Lawrenceville, Georgia.  Their children are: Suzanne Marie Specht Danielson (b. 1961), Lisa Marie Specht Clark (b. 1964), and Matthew Specht (b. 1967).
Louis Earle Bellande Jr. (b. 1942)
     Louis Earle Bellande Jr. married Linda Lee Carden (1942-1999), a native of Tennessee.  They exchanged wedding vows in Chicago on December 28, 1963.  This union has produced two children: Peter Bellande (b. 1976) and Rachel Bellande (b. 1979).  Louis has a successful law practice in Chicago and Linda was a very successful realtor in the west Chicago suburbs.  They reside at Wheaton, Illinois.  Linda C. Bellande expired on September 7, 2007.(The Chicago Tribune, September 8, 2007)
     Earle Bellande died on May 25, 1989 at the grand age of 92 years just one week after he and Signe had attended the wedding of his grandson, Matthew Specht, in Carbondale, Illinois.  After retiring from the hectic world of sales, he and Signe enjoyed many trips to the west coast of Florida, New Orleans, and his birthplace, Biloxi.  Signe Bellande expired on February 28, 1999 at Chicago.  She remained very active performing charitable works, visiting old friends, and enjoying her growing families and grandchildren.