LOCATION
The Morris House was located on the northeast corner of Jackson Avenue and Ocean Avenue.
BUILDING:
No photographs or plans of the Morris House are currently known to exist.  From a description of the house, it can be estimated with some degree of certitude that the structure was probably about 4000 square feet in area.  The gallery may have been as large as 900 square feet.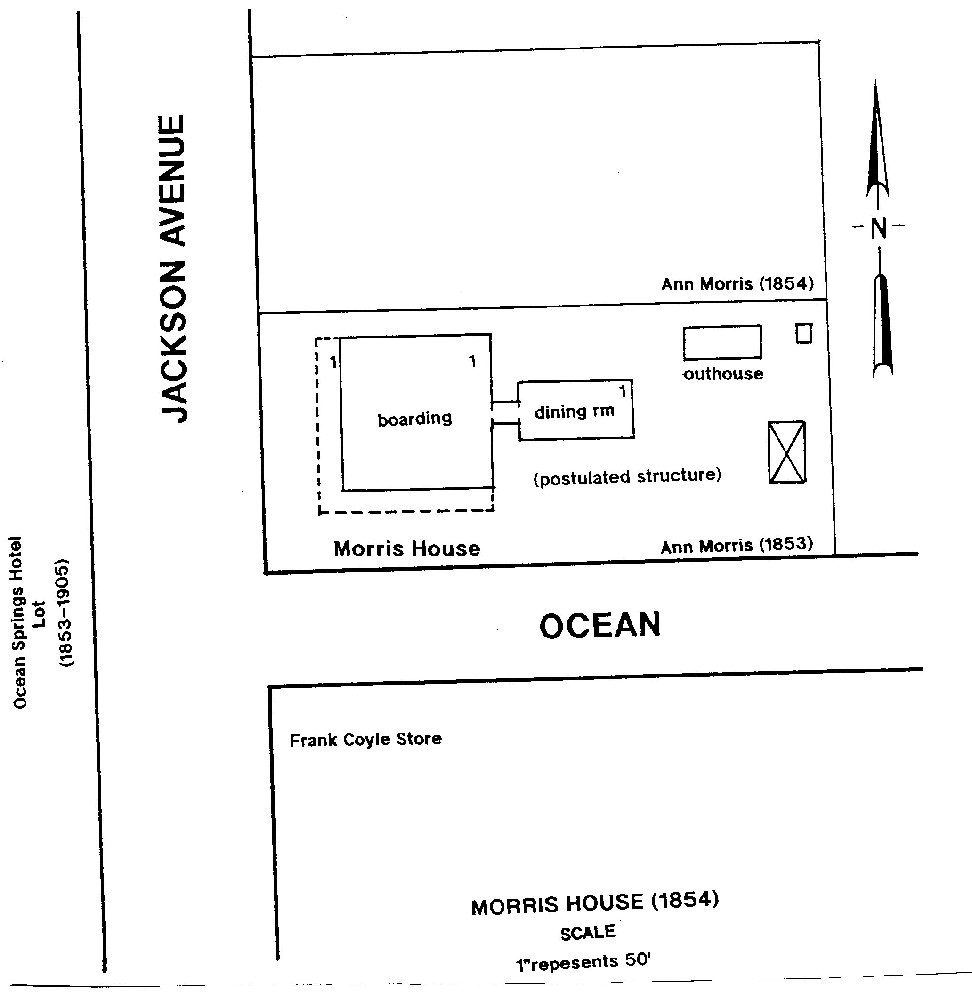 HISTORY
The Morris House was one of the first boarding houses to be built in Ocean Springs.  It was located on the east side of Jackson Avenue just north of the steamboat landing at the foot of Jackson Avenue.  It was a neighbor to the large Ocean Springs Hotel just across the street.  This inn was built by James Morris and Ann Morris on land purchased from E.R. Porter and George A. Cox in September 1853 and October 1854.(JXCO, Ms. Land Deed Bk. 72, pp. 446-448)
The Ocean Springs Gazette dated March 4, 1855 ran an advertisement to sell the Morris House.  The ad read as follows:  The undersigned offers for sale on accommodating terms, his new, large and spacious boarding house, situated on the corner of Jackson and Ocean Avenues.  Said house is well furnished for a private boarding house, containing 24 rooms well furnished.  The house is well supplied with furniture, a good cooking range, cooking utensils, etc.  I will sell with or without furniture.  The lot on which said house stands is 91 ft. 6 in. front, more or less, and 200 ft. in depth, or I will sell with it or separately another lot adjoining, 90 ft. front more or less, and 200 ft, in depth.  Apply to the undersigned on the premises.
JAMES MORRIS
James Morris was probably born in Ireland.  His wife, Ann (1819-1900), was a native of Ireland, and came to the United States in 1832.  They had ten children, but only Elizabeth Morris Hill (1848-1933), Emmanuel J. Morris (1849-1899), both born in Louisiana, and Kate Morris (b. 1855) probably born at Ocean Springs survived to adulthood.  From the US Census, it appears James Morris died before 1860.  At least four of the Morrises are known to be buried in the Evergreen Cemetery at Ocean Springs.
Mrs. Morris ran the boarding house with the philosophy that the "object of the proprietress is to render the Morris House in every respect a home residence".(The New Orleans Times, May 20, 1866, p. 1). 
The New Orleans Times of July 1, 1866 advertised as follows:
MORRIS HOUSE
Ocean Springs
 The Morris House, located on the main road (JacksonAvenue), offers every accommodation to invalids, families, and transient guests.Its location in immediate proximity to the chalybeateand sulphur springs, is a great convenience, and the facilities for sea bathing are unsurpassed.  It presents every advantage of a watering place with the comforts of a private residence.(p. 2, col. 4).
E.J. Morris and Ann Morris also owned the Artesian House on Jackson at Porter between 1895-1900.  She leased it to Caspar Vahle in October 1899.(JXCO, Ms. Land Deed Bk. 20, pp. 639-640)
Elizabeth Morris married Thomas G. Hill (1839-1880+) from Alabama.  Hill was a retail grocer at Ocean Springs.  In 1896, Elizabeth Hill was the proprietor of the Morris House.  She was a widow by 1900 living in Ocean Springs with her two daughters, Alice Hill Grayson (b. 1868), and Annie Hill Simmons (b. 1880) as well as her mother, Ann Morris, who would die shortly in October 1900.  She also had a son, Harry Hill (1866-1915).  
Elizabeth Morris Hill died at New Orleans on December 19, 1933.  She was survived by Alice Birdrow, her daughter, and grandchildren: Mrs. N.J. Werther, William Simmons, Sidney Simmons, Herman Simmons, Watson Birdrow, George Birdrow, and Morris Grayson; several great-grandchildren and great great-grandchildren.(The Daily Herald, December 20, 1933)
Mrs. Annie Morris advertised in The Pascagoula Democrat-Star on July 4, 1884, as:
Nice Furnished Rooms
In private family, single or in suits; with or without board.  Terms to suit the times.
Apply to
Mrs. A. Morris
Ocean Springs, Miss.
Emmanuel Morris, called E.J., became a real estate magnate at Ocean Springs.  Charles Dyer in Along The Gulf (1895) said this about Morris:  Mr. Morris is one of the largest real estate dealers in this city and has done more towards the advancement and up building of Ocean Springs than any man who lives there.  He is enthusiastic on the subject, and, if anyone is desirous of gaining any information on this subject, they would do well to write him.
In August 1896, E.J. Morris was awarded a contract for ten years by the City of Ocean Springs to run the public wharf, bath house, and concession at the foot of Jackson Avenue.  The Morris Pavilion at the end of the pier was the site of band concerts on Sunday afternoons.  E.J. Morris sold his lease to Alice Grayson, his niece, for $460 on September 30, 1896.(JXCO, Ms. Land Deed Bk. Book 20, pp. 639-640 and The City of Ocean Springs, Minute Book (1892-1899), p. 140)
In 1898, Morris also owned a large lumber mill on Fort Bayou called the E.J. Morris Lumber Company.  The Millsite Subdivision is located on this former plant site.
The Morris House was probably the first boarding house built at Ocean Springs.  It existed for approximately forty-five years on Jackson Avenue serving as a haven for travelers at Ocean Springs seeking a home away from home.  Its demise possibly came about as the railroad displaced the steamboat as a mode of mass transportation in the area.  Other contributing factors could have been the aging of the structure and Ann Morris, and the construction of the "modern" Artesian House by Alfred E. Lewis in 1891.  It appears the building burned or was demolished by 1901.  The lot has remained vacant since this time.
Aline Cottage
In late 1896, the Morris House was leased and called the Aline Cottage.  The "Aline House" was mentioned inThe Pascagoula Democrat-Star of October 15, 1897.  No further information.
Louis A. Lundy et al
Louis A. Lundy (1876-1941) acquired the former Morris House property from the Hills in 1901.  Lundy sold the lots to Frank H. Bryan (1872-1936) in March 1910.  Joseph Weider (1879-1931) built a lovely Queen Anne home here at 406 Jackson Avenue for Mr. Bryan in May 1910.  For many years, Julia Allen Love (1909-1994) lived here and it was locally referred to as the "Love House".(The Ocean Springs Record, March 2 and March 9, 1995 and JXCO, Ms. Land Deed Bk. 17, p. 521, Bk. 22, p. 229, Bk. 24, p. 9, and Bk. 35, pp. 495-496)
Pamela Boudoin-Aimee and Douglas B. Letoha acquired the Bryan-Love home on April 28, 1995.  They possessed the house and property when it was damaged by Hurricane George in 1998.  It was devastated and destroyed by Hurricane Katrina in August 2005.(JXCO, Ms. Land Deed Bk.1062, p. 674)
REFERENCES:
Charles L. Dyer, Along The Gulf, (reprint: The Women of the Trinity Episcopal Church: Pass Christian, Mississippi-1971).
Journals
The Daily Herald, "Mrs. Ann Morris Obit", October 10, 1900, p. 8.
The Daily Herald, "Mrs. George Hill dies", December 20, 1933.
The New Orleans Times, July 1, 1866, p. 1.
The New Orleans Times, "Morris House, Ocean Springs", July 1, 1866.
The Ocean Springs Record, "Frank Bryan House", March 2, 1995.
The Pascagoula Democrat-Star, "Niced Furnished Rooms", July 4, 1884.
The Pascagoula Democrat-Star, "Ocean Springs Locals", January 31, 1896.
The Pascagoula Democrat-Star, "Ocean Springs Locals", July 11, 1897.
Archives
M. James Stevens Collection, Biloxi Public Library, Biloxi, Mississippi.
US Census - Jackson County, Mississippi (1860, 1870, 1880, 1900, and 1910).