Pierre Bellande was known as Peter.  He was born on April 4, 1871, at North Biloxi.  Peter married Alice Caillavet (1872-1955), a Biloxi girl, who was born April 7, 1872.  Her parents were Raymond J. Caillavet (1838-1898), a carpenter, and Celina Joucheray (1841-1903) of New Orleans.
Baseball and Fishing
In the spring of 1892, The Biloxi Herald, announced that the T.P. Dulion Baseball Club had organized and that Peter Bellande was their first baseman.  Peter must have passed his athletic ability to his sons, as several were excellent athletes.(The Biloxi Herald, April 9, 1892, p. 4)
By mid-June 1892, a new baseball club was organized called the "Biloxi Blues".  As the officers of the club, W.K.M. Dukate (1852-1916), Lazaro Lopez (1850-1903), and Theodore P. Dulion, were among the most affluent Biloxians of this era, the choice of Peter Bellande and his brother, August, to the squad is most impressive.  Three of their cousins, Emile Harvey (b. 1870), Louis Harvey (1874-1913), and Francis Harvey (1874-1913) were also selected to play for Manager Ed Suter (1866-1943).  Older brother, Joseph A. Bellande (1868-1961), was elected an honorary member of the team.(The Biloxi Herald, June 18, 1892, p. 4)  
Another avocation of Peter, which was certainly in the family genes and passed to his sons was fishing.  This "Believe It or Not" fish tale was printed in the The Biloxi Herald of May 26, 1894:
"Fishing in the ponds on the L&N Railroad near the bridge has proven successful lately.  Peter Bellande and Joseph Clark caught nearly 600 green trout (bass) in 3 hours the other day."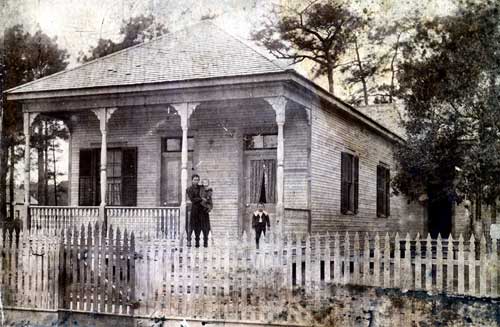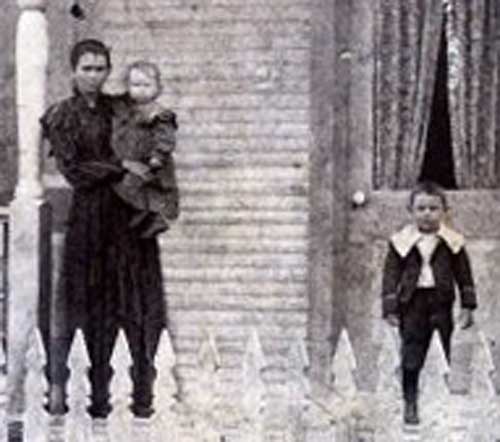 Peter Bellande domicile [circa 1890]; detail l-r Alice C. Bellande holding Faye, Roy P. Bellande
837 Lameuse Street-survived Hurricane Katrina of August 2006
Below in January 1994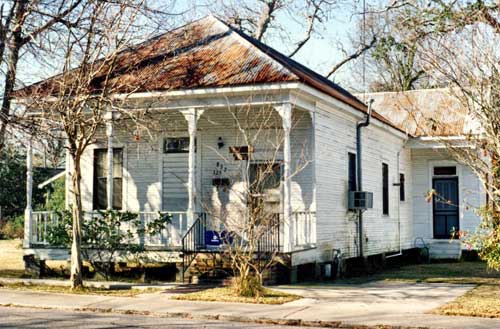 Marriage and family
Peter Bellande and Alice Caillavet exchanged wedding vows in Biloxi on August 19, 1894.  They settled at 837 Lameuse Street in Biloxi on land that Antoine Bellande had purchased in 1880, and conveyed to Marie Harvey Bellande in December 1885.  All of their children were born in this house which is extant and occupied by an Hebert family today.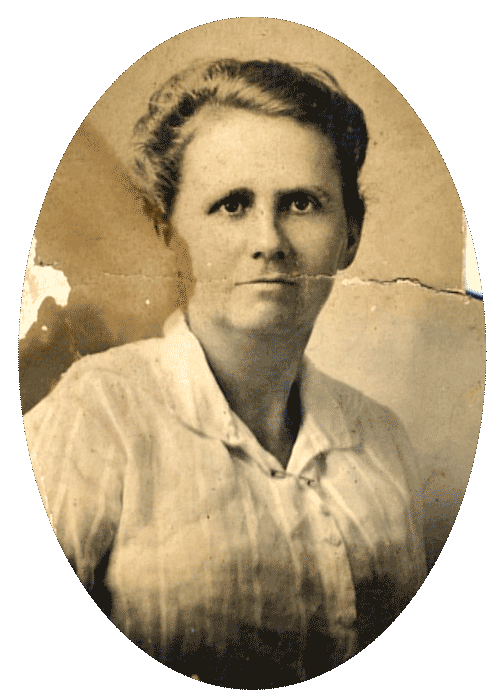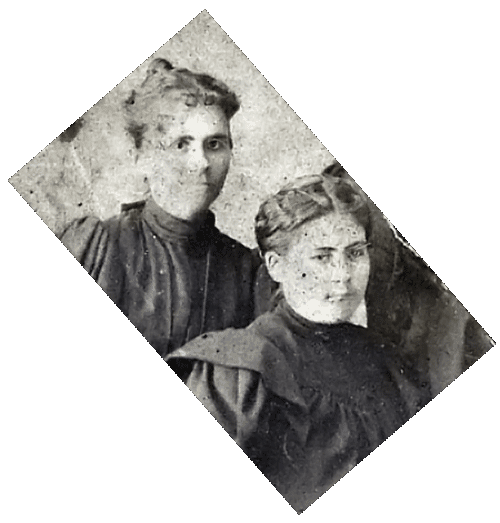 Alice Caillavet Bellande (1872-1955)
Peter was a bartender and later a policeman.  As a member of the Biloxi police force he served as a patrolman, sanitary inspector, night clerk and desk sergeant.   In January 1917, Officer Bellande's hours were changed from 9 a.m. to 9 p.m. to 12 noon to 12 midnight by Richard M. Randolph, Chief of Police.  His bicycle was also stolen from Howard Avenue.(The Daily Herald, January 21, 1917, p. 1) 
Contraband alcohol continued to be smuggled and sold in Harrison County and the Popp's Ferry area appears to be a preferred destination for these illicit activities.  In March 1917, Police Chief  Richard M. Randolph and Officer Peter Bellande (1871-1933) seized a wagon loaded with eight casks of Cook's Beer and a gallon of wine and arrested Frances Barthes (1888-1942).  It was presumed by local law enforcement officials that a schooner had transported the liquor to Biloxi from New Orleans and that it was being transported to Popp's Ferry for retail sale.  Judge F.W. Elmer Jr. fined Mr. Barthes $100 and court cost.(The Daily Herald, March 13, 1917, p. 3)
Mayor Edward Glennan (1854-1933) started his final year as Mayor of Biloxi with turmoil in the Police Department.  In January 1918, when it was time to reappoint patrolmen, Walter H. 'Skeet' Hunt (1887-1961), 1st Ward Alderman, opposed that Frank J. 'Zudie' Hightower (1890-1976), Peter Bellande (1871-1933), and John W. Mabry (1873-1940) continue with the force.  The Board of Aldermen appointed Joseph Mattina (1889-1969), a barber; Willie Ryan (1876-1958), Biloxi Yacht Club keeper; and Martin Green Jr. (1875-1951), a boat dealer, to replace the three men.  None of the City Council's new policemen had any law enforcement experience and they had to be trained by Chief Randolph.(The Daily Herald, January 3, 1918)
When John J. Kennedy replaced Edward Glennan in January 1919 as Biloxi's new Mayor, he attempted to have Peter Bellande hired back on the Biloxi Police force.  He was opposed by Commissioners Walter H. Hunt and Marshall L. Michel and Officer Bellande was not rehired at this time.(The Daily Herald, January 8, 1919, p. 1)
By 1926, Peter Bellande was desk sergeant for the Biloxi force.  In November 1926, he took two weeks vacation and expected to log in some fishing time.  At this time, The Daily Herald related that 
"Mr. Bellande is a fisherman of skill and repute, and there is no greater recreative sport for the tired office man that a hook and line, bait and the pleasures of anticipation.  The police office may expect a new man when he returns."(The Daily Herald, January 21, 1917, p. 1 and November 19, 1926, p. 2.)
In June 1927, Peter Bellande decided to enter politics and ran for the Office of Constable, but lost.  His family felt that his defeat was the result of Peter's honesty.  In announcing his candidacy for the Constable's position, Peter was described as: respected and liked by a large number of friends in Biloxi and on the Coast who declare that he is as 'honest as the day is long'. (The Daily Herald, June 27, 1927, p. 1) 
This uprightness was noted in The Daily Herald of December 24, 1917, on page one titled, "Officer Bellande has no favorites".  Peter Bellande arrested his oldest son, Roy Bellande, for riding his bicycle without a light! 
Officer Bellande also arrested Arbeau Caillavet (1881-1946), his wife's first cousin, for possessing liquor at Caillavet's White Kitchen on Lameuse Street.  Mr. Caillavet was fined $100 by Judge Z.T. Champlin in the fall of 1916 for transporting the contraband liquor in a suitcase.  One of Peter's grandsons, Mickey J. Bellande (b. 1944), was elected a City Councilman in Biloxi in July 1989 and July 1993 representing Ward 7.(The Daily Herald, November 2, 1916, p. 3)
Peter and Alice reared a family of seven children on Lameuse Street.  They were: Roy P. Bellande (1895-1964), Louise Faith "Faye" B. Davidson (1898-1974), Aristide C. Bellande (1901-1976), Elliott A. Bellande (1904-1977), Ruth B. Ragusin (1906-1993), Marcel J. Bellande (1909-1982), and Alton L. Bellande (1912-1970). 
In the spring of 1933, Peter Bellande suffered a heart attack, and died 7 months later on December 8, 1933.  Alice Caillavet Bellande lived into very old age and passed on July 10, 1955, at Mobile, Alabama.  The day she was buried a violent thunderstorm struck Biloxi, and our neighbor on Lameuse Street, Mrs. Tom Williams, slipped on her porch and broke her leg.