DOUBLE STILL CEMETERY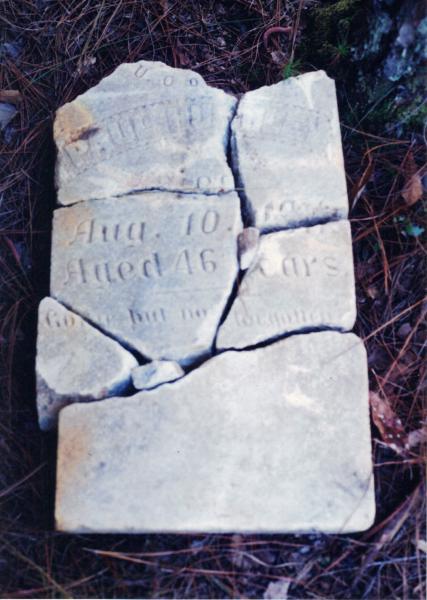 Double Still Cemetery Tombstone
LOCATION: On Double Still Road in the NE/4, NE/4 Section 20, T5S-R8W.
DIRECTIONS: East of the old Double Still turpentine site, which is in the SW/4, SW/4 Section 17, T5S-R8W.
HISTORY: A heavily, shattered tombstone was found in Section 20, T5S-R8W by deer hunters in January 1995.  It is a believed that a paper company bulldozer ran over the tombstone and severely mangled it.  The broken stone was brought to the hunting camp of Elvin Ramsay (b. 1907).  Mr. Ramsay's granddaughter, Lorrie Ramsay Massey, notified Ray L. Bellande of the find. 
On February 26, 1995, Bellande went to the Ramsay hunting camp located in the NW/4 of Section 36, T5S-R9W.  He measured, photographed, and recorded the following information from the desecrated tombstone:
U.O. o
PAUL HU ?? LEY
(could this be Paul Hughley?)
August 10, ???? (possibly 1910 or 1911)
aged 46 years
gone but not forgotten
The USGS Topographic Map Vestry (1954) (Scale 1:62500) has the word "grave" depicted in the exact area that the recent tombstone was found.  U.O. is part of a Lodge designation, probably GUO of OF, Grand United Order of Odd Fellows.  It is believed that Paul Hughley was probably a black turpentine worker.
REFERENCES:
Personal Communication:
Lorrie Massey-February 1995.
Elvin Ramsay-February 1995.
Hank Cummings-November 2010