Primary tabs
Hellmers Family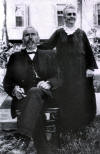 Henry Hellmers (1848-1934) and Katherine Considine Hellmers (1858-1937)
[Courtesy of Ted Millet, Grove, Texas-August 2004)

     Heinrich "Henry" Hellmers (1848-1934) was born at Altenesch, Oldenburg Province near Bremen, Germany on September 13, 1848.  He became a naturalized American citizen in 1860.  In 1880, Henry Hellmers resided at New Orleans in Ward Two in the area bounded by Magazine, Julia, St. Charles, and Thalia.  He worked as a barkeeper, and roomed at a house owned by an Irish woman, Eli Vallient.(Fenerty et al, 1992, p. 122) In 1900, Henry Hellmers made his livelihood as a hotelkeeper in the Crescent City.  He had married Isabella Hellmers (1841-1908), a native of Mississippi whose parents were German immigrants, in 1892.  They had no children.  Mrs. A. Franz (1848-1900+), the sister of Mrs. Hellmers, lived with them in New Orleans.
No. 7 Calhoun
     In May 1907, at retirement age, Henry and his wife, Isabella Hellmers (1858-1908) moved to Ocean Springs and purchased for $1950, No. 7
Calhoun, now 914 Calhoun, from Severin and Sophie Schill.  Here Mr. Hellmers toiled in his garden.(JXCO, Ms. Land Deed Bk. 32, pp. 549-550 and Margaret Seymour Norman, August 1994). The old Hellmers house is now in the possession of Albert Bruce Duckett and Alice Pulliam Duckett who acquired it from Helen Uhalt Duckett, the widow of Albert B. Duckett (1907-1978), in December 20, 1979.  In the spring and summer of 1994, Donnie McAlister, a local contractor, and foundation guru, James T. Jacobs of Gulfport, performed an extensive refurbishment of this historic building.  The Hellmers house has been utilized as a rental by the Ducketts for over two decades.(JXCO, Ms.Land Deed Bk. 665, pp. 471-472)
New wife
     After Isabella Hellmers died in 1908, Henry Hellmers married a German woman, Hanna Geb Koegel Rycnaer (1864-1919), who had immigrated to America in 1898.  She had been his housekeeper for many years.  They married on October 10, 1909.  Hanna had a daughter, Dora Rycnaer Schneider (b. 1903), from her first marriage.  Dora attended school at St. Alphonsus across the street.  Hanna R. Hellmers died on June 25, 1919.
Pecans and boarders
     To supplement his retirement income, Henry Hellmers kept boarders and gathered and sold pecans from the trees in his yard.  In November 1918, he sold two hundred pounds of nuts at $.50 per pound netting him $200. The 1910 Federal Census indicates that the Hellmers kept lodgers at their Calhoun Avenue home.  James G. Buttes, a native of Arkansas and a commercial salesman, stayed with them at this time.(The Jackson County Times, November 23, 1918, p.5)
A third spouse
     Henry Hellmers married Katherine Considine (1858-1937), a native of New Orleans, at Ocean Springs on March 13, 1922.  Her parents, Michael and Margaret Considine, were born in Ireland.  At New Orleans, Katherine C. Hellmers had two brothers, Michael and George Considine, and several nieces, Mrs. T. Millet, Mrs. A. Lestelle, and Mrs. G.W. Richardson.(The Daily Herald, December 6, 1937, p. 6) Hellmers Lane In June 1927, Henry Hellmers donated land to the Town of Ocean Springs for the street called Hellmers Lane.(JXCO, Ms. Land Deed Bk. 60, p. 407)
Henry expires
     After Henry Hellmers died on October 11, 1934, and was passed through the Lutheran Church, Katie C. Hellmers inherited their Calhoun Avenue house.  Upon her demise on December 12, 1937, her niece, Kate C. Millet, inherited the Hellmers home in Ocean Springs.  In November 1944, Mrs. Millet sold the Hellmers house to Frank Theodore Habercamp (1880-1960), a native of Chicago and his spouse, Martha E. Markshell (1885-1961), who was born at East Konisberg, Germany.(Jackson County Will Book 3, p. 239-241, JXCO, Ms. Chancery Court Cause No. 5626, The Daily Herald, October 12, 1934, p. 3 and JXCO, Ms. Land Deed Bk. 87, p. 654) Members of the Henry Hellmers family are buried in the Evergreen Cemetery at Ocean Springs.
REFERENCES:
Patricia Ann Fenerty and Patricia White Fernandez, 1880 Census of New Orleans, Volume II, (Padraigeen Publications:  New Orleans-1992), p. 122.
                                                                                                                                  Journals
 
The Daily Herald, "Ocean Springs", March 18, 1922, p. 8, c. 6.
The Daily Herald, "Ocean Springs", September 18, 1926.
The Daily Herald, "Henry Hellmers Dies", October 12, 1934.
The Daily Herald, "Mrs. Hellmers Dies", December 6, 1937, p. 6, c. 2.
The Jackson County Times, "Local News Interests", November 23, 1918.
The Jackson County Times, "Local and Personal", September 5, 1925.
The Ocean Springs News, "Local News", October 23, 1909.